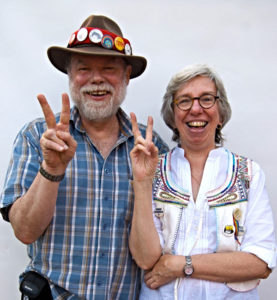 JIM FOREST is the author of numerous books and a contributor to many publications. He also serves as International Secretary of the Orthodox Peace Fellowship. His books include The Road to Emmaus: Pilgrimage as a Way of Life, Ladder of the Beatitudes, Praying with Icons, Living With Wisdom: A Biography of Thomas Merton, and All Is Grace: A Biography of Dorothy Day. He is also the author of several children's books. His most recent books are Loving Our Enemies: Reflections on the Hardest Commandment and Saint Nicholas and the Nine Gold Coins. His photographs have been widely published.
NANCY FOREST-FLIER has been working as a freelance Dutch-to-English translator and English language editor since 1988. She received her training in English composition at Hope College in Holland, Michigan, in the United States, from which she graduated with honors. She did graduate studies in English literature at Duke University in Durham, North Carolina. A writer, her articles have appeared in both American and British publications. Her clients include the Anne Frank House in Amsterdam, Amsterdam's Museum of the Resistance, the Bijbels Museum in Amsterdam, the publishing firms Lemniscaat and Querido, the National Library of the Netherlands, the Dutch-Belgian foundation Ons Erfdeel (publisher of the yearbook The Low Countries), the Royal Institute of Linguistics and Anthropology in Leiden, and various art museums and galleries, including the Kröller-Müller Museum, the Van Abbe Museum and De Appel Foundation.
They live in Alkmaar, The Netherlands.
They have two blogs:
On Pilgrimage: http://jimandnancyonpilgrimage.blogspot.com/
A Tale of Two Kidneys : http://ataleof2kidneys.blogspot.com/

Jim occasionally travels to give lectures — see http://jimandnancyforest.com/lecture-trips/ or contact him for details using the "contact" option on this web site.