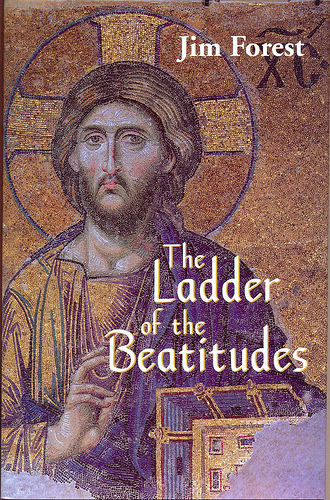 The Ladder of the Beatitudes received the first place award in the category book on spirituality from the Catholic Press Association. The citation reads:
"This is a remarkable blending of Western and Eastern traditions about the Beatitudes and a contemporary update of their relevance. one beatitude leads to the next, and together they constitute a summary of everything that follows in Matthew's gospel even to the passion and resurrection. It is a truly magnificent tool to use in meditation on the deepest meanings of the Scriptures as related to our daily lives. The book's notes manifest the rich array of witnesses to the beatitudes over the centuries and today."
Here are a few chapters:
Reviews
Those who valued Jim Forest's earlier writings, his studies of Thomas Merton and Dorothy Day, or his more recent book, Praying with Icons, will not be disappointed in this latest contribution, an exposition of the meaning of the Beatitudes.
From the beginning, Forest insists that this whole series of sayings belongs together, and has a common end and purpose. With their powerful paradoxes about the blessedness of poverty, hunger and grief, all the Beatitudes are showing us the same thing: the way towards living our life in God, and finding the joy in his kingdom here and now.
Forest illuminates the words of the Gospel from other places in the New Testament and from the sayings of the Old Testament prophets. He also illuminates them with the help of the saints, of both East and West, Seraphim of Sarov and Francis of Assisi, Dorothy Day and Maria Skobtsova.
In view of his own long connection with the International Fellowship of Reconciliation, it is not surprising that Forest is particularly incisive in his comments on "the peacemakers". He makes use of the example of St Francis himself, and of the life of a contemporary Franciscan sister working in Las Vegas and witnessing for peace. Here, as throughout the book, one finds a particular strength in Forest's writing, which comes from his knowing both Eastern and Western Christendom from the inside. He is able to show us the way in which the two traditions, with their different experiences, can strengthen and support one another.
This is not exactly a comfortable book. "Each of the Beatitudes has to do with dying to self.., not out of self-hatred or a collapse of self-esteem, but because there is no other way to love God and neighbour."
It is through this dying that the joy and peace of the kingdom can be known in the reality of daily life, and in the discovery of what it means to love God and our neighbour as our self.
– A. M Alichin
professor at the University of Wales, Bangor
Church Times
I'm teaching church school this year. Our first weeks were blocked out for a unit on "saints," which I agreed to plan. Our priest had the inspired idea of using the Beatitudes as our framework, looking at one each week and also telling the stories of saints that "fit." Looking for help, I bought The Ladder of the Beatitudes and have just started reading it – just got through the chapters on "Blessed are the poor in spirit." I am so grateful to have found it, and not just in my role as church school teacher. This is what I need now.

My only problem is that now I want to quote Jim's book to everyone, and I have other work I must attend to … but I will be giving this book to others and quoting snippets in spite of myself.

Blessed are the poor in spirit! That's our starting point, isn't it? I think I've been there, if only for fleeting moments.
Julianne Tarsey
member of an Orthodox parish in Minnesota
Visit the book's page on Amazon>
The Ladder of the Beatitudes is published by Orbis Books:
Orbis Books
Maryknoll, NY 10545
USA
fax 914: 945-0670
free phone for book orders: 1-800-258-5838
e-mail: bprice@maryknoll.org
http://www.maryknoll.org
* * *