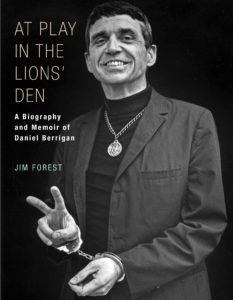 Due out from Orbis Books late October 2017
* * *
"There is no better introduction to the life of Dan Berrigan, one of the greatest Christians of our age, of any age, than this deeply researched, highly personal, beautifully written biography by his friend Jim Forest. He has captured Dan the poet, the prophet and the priest. And what a poet! What a prophet! What a priest!"
— James Martin, SJ, author of The Jesuit Guide to Almost Everything.
"It is hard to deny that God prepares and then uses certain people for very special tasks. You will see that is eminently the case with Daniel Berrigan–but also for Jim Forest who seems to always know who is worth writing about–and how to do the writing. Read, and enter into a much larger world."
— Richard Rohr, OFM, Center for Action and Contemplation
* * *
From the book's preface:
Daniel in the lions' den was a popular scene in Romanesque stone carving, a visual anticipation of Christ's death and resurrection. In one of the capitals in the basilica of the French town of Vézelay, Daniel is shown as if he were resting on a bed of leaves within an almond-shaped mandorla of divine protection. He is no more threatened by the lions on either side of him than I am threatened by Beckett, our household cat.
Dan Berrigan spent much of his life in various lions' dens — at home as a child when his father was in a rage, in paddy wagons and prisons, in demonstrations which were targets of violent attack, in a city under bombardment, in urban areas police would describe as hazardous — yet remarkably he lived to be 94, dying peacefully in bed, though he bore many invisible scars and scratches.
Like the biblical Daniel, Dan Berrigan was a man of prayer, both private and public. I never knew anyone gladder to celebrate the Eucharist. But, unlike the biblical Daniel, Dan was also a man of play, at play as much in courtrooms and jails as in his apartment assembling a meal for whoever happened to be his guests that night.
I recall him saying, "The worst thing is an omnivorous solemnity." Dan was rarely solemn. I remember one night he and two other friends helped me push my decrepit VW beetle down a rain-soaked East Harlem Street, trying to bring the engine to life, all of us laughing till our bellies ached while Dan told a joke about a near-sighted, sex-starved elephant who mistook a VW for a female elephant who wanted to mate.
For many years Dan lived with a Jesuit community in a building at 220 West 98th Street in Manhattan. Dan had apartment 11L. Once through the door, the many people who were welcomed there found themselves in what might be described as the set for a small Off Broadway play. Posters and banners, flags and photos were decoratively placed here and there, but what I found most striking was a canticle-like quotation from the great Irish abbess, St. Bridget of Kildare, that Dan had inscribed on one wall, the calligraphy done in black magic-marker, the text wrapping around his refrigerator:
I should like a great lake of beer for the King of Kings.
I should like the angels of Heaven to be drinking it through time eternal.
I should like excellent meats of belief and pure piety.
I should like flails of penance at my house.
I should like the men of heaven at my house;
I should like barrels of peace at their disposal;
I should like vessels of charity for distribution;
I should like for them cellars of mercy.
I should like cheerfulness to be in their drinking.
I should like Jesus to be there among them.
I should like the three Marys of illustrious renown to be with us.
I should like the people of heaven, the poor, to be gathered around us from all parts.
Barrels of peace, cellars of mercy, meats of belief, flails of penance, the good company of the poor, an assembly brought together from far and near, all gathered with the King of Kings and the three Marys around a great lake of beer… One could shape one's life around so magnetic a vision, so joyful a prophecy, so great an expectation — as compelling a glimpse of heaven as any I have heard. How suitable to discover these holy words in Dan Berrigan's home, a grand central station of hospitality whose countless guests included many who were en route to prison or dying of AIDS.
Inventive man that he was, Dan helped, with his brother Phil, to develop more theatrical forms of protest, civil disobedience and resistance and then, as a writer, to transform prosaic events into poetry and theater, as he did in converting the courtroom drama of the trial of the Catonsville Nine into the often performed play of the same name.
And what could be more theatrical than slipping away, costumed as a giant apostle, from a crowd of F.B.I. agents poised to arrest and handcuff him, and thus beginning four months playing hide-and-seek as an underground priest?
Dan was a performer and artist but his art was rarely art for art's sake. His was a life of lived-out translations of such biblical commandments as "thou shalt not kill" and "love one another." How sadly rare it is to find a person — Dan was one of the exceptions — who regards such a straightforward mandate as obliging us to protect life rather than destroy it, even if that requires saying a costly "no."
Perhaps Dan's most notable quality was his immense compassion, which guided him one way or another on a daily basis, even late in life when it was a challenge just getting out of bed in the Jesuit infirmary at Fordham University that had become his last home.
I recall Dan using the phrase "outraged love." Many people are driven by rage, which rarely does them or anyone much good and often makes things worse. But outraged love is mainly about love. Dan loved his imperfect church, his not always agreeable Jesuit community, he even loved America — but there is much in all three zones that is outrageous, and Dan was never able to be silent or passive about our betrayals. This could have made him a ranter but the artist side of Dan always found ways to channel his outrage into one or another form of creativity, whether via poetry or a wide variety of acts of witness. He became one of the most consistent voices of his generation for nonviolent approaches to change and conflict resolution — in that dimension of his life a spiritual child of Catholic Worker founder Dorothy Day. His commitment to life excluded no one, from a child in the womb to a condemned murderer on death row.
Dan remarked of Dorothy Day, "She lived as if the Gospel were true." The same could be said of Dan. He once said, "If you want to follow Jesus, you had better look good on wood." He didn't mean a Christian had to be a martyr, in the sense of dying for one's faith, but a martyr in the literal meaning of the Greek word µ?????: a witness. Part of that witness, Dan insisted, is refusing to use death as a means of improving the world, still less creating the Kingdom of God.
For the Christian, peacemaking is any action that bears witness to the risen Christ. As Dan said in a talk given at the Abbey of Gethsemani, "To be witnesses of the resurrection is to be contemplative and public all at once."
Dan had countless friends. I was fortunate to be one of them. May this book become an occasion for friendship with him for those new to his name as we gather around the great lake of beer at which the King of Kings presides and where lions and lambs lie side by side.
— Jim Forest