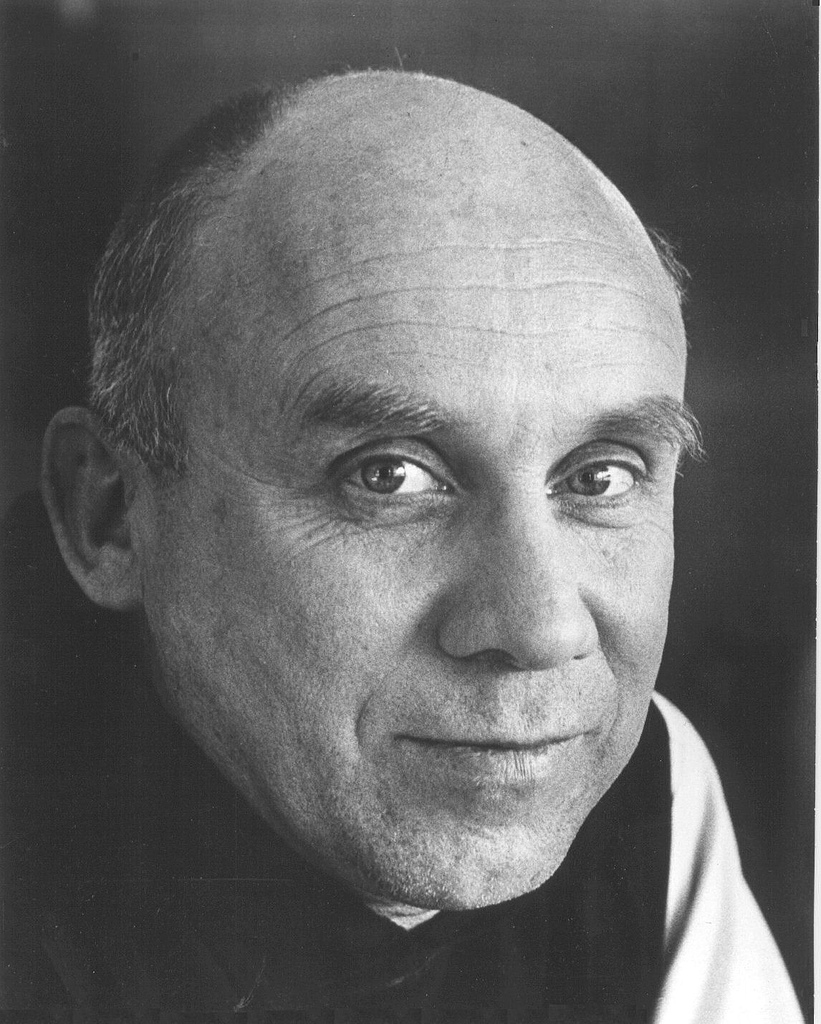 by Jim Forest
One of the most haunting phrases in Thomas Merton's writing is a passage in The Sign of Jonas in which he speaks of God as "mercy within mercy within mercy." It suggests that God is like a Russian matryoshka doll: open one and there is the surprise of another nested within. In life too the shell of the word "God" keeps breaking open only to reveal our unbroken, merciful maker still there: always present, always elusive.
It's not only God who is elusive. From infancy onward, each of us is vast, mysterious, unmapped continent. Thomas Merton, for example. His books fill several library shelves, including not only what he personally prepared for publication but five volumes of letters plus a seven-volume set of his unexpurgated journals. And now there is The Intimate Merton, a selection of journal highlights. In the history of Christianity there is no monk about whom we know so much, yet Merton is still evading us like a matryoshka doll containing an infinity of selves.
It's more than half a century since, with the publication of The Seven Storey Mountain, Merton first found himself in the limelight. It was the autobiography of a young man born in France as the First World War was breaking out, who lost his parents at an early age, who was raised with the most modern ideas current in Europe between the wars, a lonely young man constantly testing life's borders, crossing the ocean to the New World when his London guardian gave up on him. Finally he found his way to the Catholic Church and then to a Trappist monastery — a religious community which was, when he joined it, a twentieth century outpost of medieval culture in which silence-guarding monks communicated with each other chiefly by sign language and slept in dormitories on straw-filled mattresses, going to bed at sunset and starting their day with Latin chant at the dark hour of 2 A.M.
The Seven Storey Mountain was the runaway bestseller publishers dream of but rarely experience. The first printing was a modest 7,500 copies, but a second printing of 20,000 was needed prior to the official publication day in September 1948. The next month, orders for 5,900 more copies were received; in November, 13,000; in December, 31,000. On one record-breaking day, 10,000 copies were ordered. In May 1949 Merton's editor, Robert Giroux, hand-delivered copy number 100,000, specially bound in leather, as a gift for the author. The book has sold millions of copies, been translated into many languages, and never gone out of print.
Other books followed, one or two a year, among them: Seeds of Contemplation, The Sign of Jonas, No Man is an Island, The Silent Life, Disputed Questions, Conjectures of a Guilty Bystander, Raids on the Unspeakable and many more — meditations, poetry, essays, literary criticism, translations, books based on extracts from his journals. The fact that Merton died in 1968, age 54, while attending a monastic conference in Thailand, has not interrupted the flow of books. Merton has been prolific even in death. (There is still at least one book yet to be published, Art and the Sacred.)
I'm one of those who knew him, a relationship mainly of correspondence begun at the encouragement of Dorothy Day. I was 20 years old at the time, a new member of the Catholic Worker staff in New York City. Merton was 46. For seven years, until his death, we exchanged many letters. During two visits to the monastery, we met repeatedly. His care, advice and prayers helped keep me from getting altogether lost in the celebrated, notorious, disorienting, bewildering Sixties.
During that first visit early in 1962, when I admired the white woolen choir robe Merton was wearing for winter use in the church, he immediately took it off so I could try it on. Its weight and solidity astonished me. Now I reflect on the intimacy in the gesture, like a father who lets his son turn the car's ignition key even through his legs are not yet long enough to reach the gas pedal. I felt very much his care and protection.
His letters were often deeply personal, at times full of anguish. Some had a confessional quality, as did many of mine. Thus it's possible to say that, despite the difference in age, I knew him well, though in another sense I began to know him only after his death. I recall what a surprise it was, several years after the last letter arrived, re-reading them all in sequence. It seemed I was reading them for the first time. They still surprise me whenever I go back to them. The same thing has happened with his books: as I get older, they seem to open their covers more widely. The first time I read The Seven Storey Mountain, I overlooked his sense of humor. The second time I noticed how funny he was, but was put off by the Catholics-Are-Best pages and by his occasional outbursts of preaching. Three or four readings later, I finally came to see the book as mainly belonging to the category of love letters.
Now his journals, kept under lock and key for 25 years after his death, are available to anyone who cares to read them. These, in combination with the letters, give both friend and stranger the opportunity to meet a very private Merton. On many pages it's a Merton who previously was known only to fellow monks who heard his confessions.
Many of the confessional pages have to do with being a writer. Merton the Writer was often struggling with his archenemy, the Merton whom God had called to solitude and silence. No one is more struck or deeply troubled by the irony of a supposedly silent Trappist monk being a loud voice in the world than Merton himself, yet even this battle is recorded with words written on paper. It was an argument which went on year after year. He found himself writing his life rather than living it. In October, 1961, when an editor arrived at the monastery to work with him on The Thomas Merton Reader, Merton noted that such an anthology made it clear that he is "a writer who has arrived" but wonders what that actually means. "Arrived where? Void. Has there ever been anything else in my life but the construction of this immense illusion?" In another entry, he accused himself of being nothing more than a "publicist of emptiness." No one was better than Merton himself in justifying his vocation to write, yet at the same time no one was more suspicious of his own defenses. He suffered from wanting to be noticed and to matter in the world, to aspire through the printed word to be a someone rather than a nobody. At other times he realized that writing was the door God had given him to a deeper spiritual and even mystical life. Of the various paradoxes in his life, none caused him more affliction than the tension between word and silence. He kept writing — and kept vowing to write less, so that he might finally disappear into silence.
There were also his grave doubts about remaining at Gethsemani, to which he committed himself by the traditional Benedictine vow of stability when he took his final vows in 1947. At the age of 26, during his first visit to Gethsemani, the abbey had seemed to him to be the secret place whose Christ-centered purity held the country together and even "kept the universe from cracking in pieces and falling apart … the only real city in America … the axle around which the whole country blindly turns." He had found himself in the court of the Queen of Heaven and wanted nothing so much as to live there for the rest of his life. But by the time he was a fully professed monk, he was often more aware of the community's faults than its virtues, filling many journal pages with complaints about Trappist shortcomings and other pages with his ideas about better places to pursue the contemplative life. There were bitter moments when he felt "like a duck in a chicken coop." His longings to leap over the wall are not news to anyone who knows Merton's biography, but the journals bring home how often and desperately Merton's eyes rested on what he imagined to be finer, greener pastures: monasteries he regarded as simpler, poorer, smaller, more hidden, more silent, less busy. At the same time the journals underline the astonishing fact that, for all his temptations to leave, he remained a monk of the Abbey of Gethsemani until his dying day — the 27th anniversary of his arrival at Gethsemani, as it happened.
Merton also records his failures as a monk. To those acquainted with his life, the most well known was his poignant, short-lived affair with a nurse he met while a patient in a Louisville hospital. It is hard to imagine a personal record of anyone's experience of love being more complete than Merton's journal in the spring of 1966 — one moment savoring a visit with his beloved at a café in Louisville, the next lashing himself for the deceit and the breaking of vows such meetings required. But many other defects are recorded in his journals, the most compelling of which is his failure to love others in his community.
The journals give us many examples of Merton's tendency first to embrace, then take distance. For example at the end of March, 1968, we find him beside himself with enthusiasm for one of the most controversial comedians of the Sixties. Merton writes that the previous evening he had been reading The Essential Lenny Bruce and that it "almost blew" his mind. "Completely gone in laughter, the kind that doubles you up and almost makes you roll on the floor. Surely that is some indication of the healthiness, the sanity of this satire which so many people regard as 'obscene'." Merton comments that Bruce is actually "one of the few who are really clean." Eighteen days later, his zeal has taken a nosedive. "Last evening I finished Lenny Bruce. Sometimes he is really inspired — sometimes just dull. And though he is in some sense a kind of 'martyr' for honesty, yet I think his gospel of excess was delusive and self-destroying." It's a typical pattern — an initial burst of wild, unchecked enthusiasm followed by a sharply critical assessment often followed by a sober recognition of the pluses and minuses of the particular author or movement or whatever had caught his eye.
In the journals we often meet the first state of passages and essays we know through other books, shined up and expanded but sometimes lacking griddle-hot freshness. There is, for example, his "Fourth and Walnut Epiphany" when, waiting for the light to change at a busy intersection, he was suddenly overwhelmed with the realization "that I loved all those people, that they were mine and I theirs … even though we were total strangers." In the form published in Conjectures of a Guilty Bystander, Merton felt that he had awaked from a dream of separateness, "of spurious self-isolation in a … world of renunciation and supposed holiness." He found that "the whole illusion of a separate holy existence is a dream" and noted that his "sense of liberation from an illusory difference was such a relief and such a joy to me that I almost laughed out loud." For a moment he had been able to see the image of God in unknown people. "There is no way of telling people that they are all walking around shining like the sun …" He had discovered that "the gate of heaven is everywhere."
It's a fine passage revealing a great compassion opening within him. Now, thanks to the publication of the journals, we have access to his first attempt to put in writing what had happened to him on March 18, 1958, and find in it a remarkable paragraph which didn't make its way into Conjectures. Here he writes about the women who were among the strangers at Fourth and Walnut:
"I am keenly conscious, not of their beauty (I hardly think I saw anyone really beautiful by special standards), but of their humanity, their womanness. But what incomprehensible beauty is there, what secret beauty that would perhaps be inaccessible to me if I were not dedicated to a different way of life. It is as though by chastity I had come to be unafraid of what is most pure in all the women of the world and to taste and sense the secret beauty in their girls' hearts as they walked in the sunlight — each one secret and good and lovely in the sight of God … as good as and even more beautiful than life itself. For the womanness that is in each of them is at once original and inexhaustibly fruitful, bringing the image of God into the world. In this each one of them is Wisdom and Sophia and Our Lady…"
It's also at the end of the Fifties that Merton begins to take note of his dream life. It's here that we find Sophia — Wisdom — as an occasional nighttime guest whose visits illumine his waking hours. Merton, like a number of Russian theologians of the last century whose work attracted him, is held captive by those passages in the Book of Proverbs concerning Wisdom — Wisdom "playing in the world before the face of the Creator." Like much in Merton's later spiritual development, streams flowing through the Orthodox Church had touched him. It was in Constantinople that the principal church was dedicated to Holy Wisdom: Hagia Sophia. At a time when few Catholics were interested in Eastern Christianity, the journals make clear how often Merton was dropping a pail into the Orthodox well through such writers as Paul Evdokimov, Olivier Clément and Sergei Bulgakov and how they in turn were helping bring Sophia to life in his dreams.
There is also the day-by-day record of his study of Zen and other schools of Buddhism, of the mystic movements in Islam, the writing of the Chinese sage Chuang Tzu, and on and on. In these activities, Merton seems at times like a cat exploring every corner and crawlspace of a great mansion with many wings — even though his explorations had to be carried on mainly through reading and correspondence rather than direct experience of other religious traditions. He never participated in the Liturgy in an Orthodox Church, and only at the end of his life did he briefly experience the culture and practice of Buddhism as it is lived rather than written about.
For all his absorption in non-Christian religious traditions, the journals give witness to the Christ-centered life Merton lived down to very end, saying Mass daily in Asia just as he had in Kentucky, praying the rosary, traveling with his Trappist breviary, keeping the monastic offices and at night setting a small Greek icon of the Mother of God with Christ in her arms next to his bed.
It is in his journals more than any other book that his own hidden religious life is made visible, with the Liturgy at its center — something so basic, so ordinary, so daily that while it is often mentioned, it's mainly in passing. Notably, the final paragraph in his journals, written in Bangkok on the 8th of December, is this:
"Today is the Feast of the Immaculate Conception. In a little while I leave the hotel. I'm going to say Mass at St. Louis Church [St. Louis was his patron saint], have lunch at the Apostolic Delegation, and then to go on to the Red Cross place [for the monastic conference] this afternoon."
We have that one final matter-of-fact reference to the Liturgy, an event as ordinary for him as breathing. Two days later the monks who had come to hear him speak were singing the prayers for the dead over his stilled body. Thomas Merton had finally entered the great silence.
At the end of 1965, Merton noted in his journal, "I live a flawed and inconsequential life, believing in God's love." It is finally a sense of God's love and mercy which pervades the journals and marks the life of this remarkable if elusive monk whose writings have touched so many lives.
* * *
This essay was written for the April 2000 issue of U.S. Catholic and may not be reprinted without the permission both of the author and Claretian Publications in Chicago. The photo of Thomas Merton by John Howard Griffin.
Merton's friend, Bob Lax, says Jim Forest's biography of Thomas Merton, Living With Wisdom, is the book about Merton he gives to his nephews and nieces. Jim's most recent books are The Ladder of the Beatitudes and Praying with Icons. He is now working on a book about confession.
text as revised February 22, 2000