by Jim Forest
In these times when social concerns are so important, I cannot fail to mention the Servant of God Dorothy Day, who founded the Catholic Worker Movement. Her social activism, her passion for justice and for the cause of the oppressed, were inspired by the Gospel, her faith, and the example of the saints….
A nation can be considered great when it defends liberty as Lincoln did, when it fosters a culture which enables people to "dream" of full rights for all their brothers and sisters, as Martin Luther King sought to do; when it strives for justice and the cause of the oppressed, as Dorothy Day did by her tireless work, the fruit of a faith which becomes dialogue and sows peace in the contemplative style of Thomas Merton.
— Pope Francis
speaking before both Houses of Congress in Washington, DC
Can you think of a word that describes a person who devoted much of her life to being with people many of us cross the street to avoid? Who for half a century did her best to make sure they didn't go hungry or freeze on winter nights? Who went to Mass every day until her legs couldn't take her that far, at which point Communion was brought to her? Who prayed every day for friend and enemy alike and whose prayers, some are convinced, had miraculous results? Who went to confession every week? Who was devoted to the rosary? Who lived in community with the down-and-out for nearly half-a-century? Whose main goal in life was to follow Christ and to see him in the people around her?
A saint.
Can you think of a word that describes a person who refused to pay taxes, didn't salute the flag, never voted, went to prison time and again for protests against war and social injustice? Who spoke in a plain and often rude way about our "way of life"? Who complained that the Church wasn't paying enough attention to its own teaching and on occasion compared some of its pastors to sharks?
A troublemaker.
And there you have Dorothy Day in two words: saint and troublemaker.
She was a person of contradictions: activist and contemplative, political radical and a theological conservative. Intending to found a newspaper, The Catholic Worker, she ended up founding a movement. The most important monuments to her are the many houses of hospitality that stretch from San Francisco to Amsterdam, places of welcome for many who have been treated as throwaways, but also centers of work for a nonviolent, sharing society. Dorothy Day continues to open doors for many, in terms of spiritual life, community building, the healing of division, service of the poor, and the renewal of churches.
"All work," she wrote, "whether building, increasing food production, running credit unions, working in factories that produce for human needs, working in the handicrafts — all these things can come under the heading of the works of mercy, which are the opposite of the works of war."
Many regard Dorothy Day as one of the saints of our time; at the initiative of the Archdiocese of New York, her official canonization process is now underway. The Vatican has given her the title "Servant of God Dorothy Day."
All is Grace offers a richly illustrated biography of Dorothy Day. Jim's earlier biography, Love is the Measure, published several years after Dorothy's death, is now replaced by this much expanded edition that draws on her letters and journals. The book is now twice the size — 350 pages — and includes more than 250 photos, many never published before.
All is Grace was the title of a book Dorothy intended to write but never finished. One sees her use of the phrase in this passage in one of her "On Pilgrimage" columns from 1954: "Our life of grace and our life of the body goes on beautifully intermingled and harmonious. 'All is grace,' as the dying priest whispered to his friend in The Diary of a Country Priest. The Little Flower also said, 'All is grace'."
Jim Forest worked with Dorothy Day during the last twenty years of her life.
The publisher is Orbis Books.
* * *
read "Saint Dorothy?", a chapter from All Is Grace: https://www.jimandnancyforest.com/2012/01/05/saint-dorothy/
* * *
In May 2012, All is Grace was selected as Book of the Year by the Association of Catholic Publishers.
* * *
All is Grace won two Catholic Press Association Awards:
1st place for biography:
"Dorothy Day, the pre-eiminent twentieth century American Catholic social activist, writer, and advocate for the poor, comes to life in this magnificent biography enriched by numerous quotations from her letters and writings. Hundreds of photos put a face on the movement for social justice that lives on in this new century."
2nd place for design and production:
"A nifty sepia-tone photograph of an older Dorothy Day in her cluttered office graces the cover of this attractive trade paperback book. Hundreds of interesting photographs are reproduced on the 344 pages of this book and they show good tone variations The type selection is excellent and the page designs evidence a lot of carefully planning when various typefaces, body text, and photographs appear on the same page."
* * *
All Is Grace: There is much to be gained by studying the lives of great men and women. Human history is adorned by the lives of those able to see beyond themselves, to couple a vision of a better world with the energy and determination to make it happen. Dorothy Day was such a person. Founder of the Catholic Worker Movement and tireless advocate for the poor and oppressed, Day gathered around her people of similar passion and showed that even the least individual can make a difference. Forest … has done an admirable job of documenting Dorothy Day's remarkable life and career. Day's outward journey brought her to the far corners of the Earth seeking justice and peace. But it was her inner journey, which taught her "how to see Christ in every person," that ultimately defined her place in history. The struggle for dignity and equality continues. Day's life demonstrates that grace abounds in the human spirit, a grace that must define humans' ultimate destiny.
— Publisher's Weekly, 14 March 2011
Dorothy Day was one of the most prominent and influential converts to Catholicism in the history of the Catholic community in the United States. I'm reading her excellent biography by Jim Forest, All is Grace, and plan to give copies to friends this Christmas.
— Cardinal Timothy Dolan, Archbishop of New York
From the first page of All Is Grace you realize that Jim Forest is a skillful storyteller, brimming with enough detail to be gripping, lively enough never to drag. Alternating between the fascinating facts of Dorothy Day's life, the world in which it unfolded and the arc of her inner life, we are treated to a story that is part history, part biography and part philosophy. And this seems fitting for a woman who sought to engage the world and all its suffering and beauty…. All Is Grace ceases to be a book just about Dorothy Day and widens to include the growing community, as well as Dorothy's own growing family….

The gift of this book is the use made of recently published collections edited by Robert Ellsberg, The Duty of Delight, Dorothy Day's diaries, and All the Way to Heaven, her letters. Jim Forest carefully weaves in these resources and the result is a life's story told with much depth….

We might be amazed and inspired by what she accomplished, and rightly so. But we should be even more amazed and inspired to learn along the way that there was much sorrow, loneliness and second-guessing. All Is Grace is, at times, heart wrenching in its honesty due to the candor and diligence with which Dorothy recorded and reflected on her life and Jim Forest's use of these writings….

This warm, engaging account matches tone with content, and like Dorothy did for many a volunteer, "you can glimpse exciting possibilities in yourself you hadn't seen before."
— review by Amanda Daloisio for The Catholic Worker (click here for full text of the review)
Our corner bookstore called with our copy of All Is Grace this afternoon. All else has been put aside. "They were of course all intending to be surprised, but their astonishment was beyond their expectations." [Jane Austen, Pride and Prejudice] This will be the indispensable book on Dorothy Day.
— John Williams, Seattle
All Is Grace is a substantially revised and expanded edition of Love Is the Measure, originally published 15 years ago. Founder of the Catholic Worker movement, Dorothy Day is one of this century's most prophetic voices and has recently been proposed as a candidate for sainthood. The author is secretary of the Orthodox Peace Fellowship; his other books include a biography of Thomas Merton.

Drawing from Day's recently published letters and many other sources, this expanded edition with copious photos and illustrations chronicles in rich detail the life and mission of a social reformer, peace activist and ardent campaigner for social justice. From the turn of the 20th century, it traces her family's struggles, the evolution of her faith, her writings, her religious and literary "heroes," her baptism at age 30 and publication of the first issue of The Catholic Worker newspaper in 1933 in downtown New York City. Forest catalogues the many issues taken up in the pages of the Worker: growing racial divides in the United States, Day's widespread travels, the founding and spread of houses of hospitality, her special relationship with daughter Tamar as "a lonely single parent," a deepening spiritual life, protests during world wars, arrests and imprisonment, trips to Rome during Vatican II, and life at Maryhouse, up to her death and funeral.

In the book's postscript entitled "Saint Dorothy?" Forest notes that it was the Claretian religious order that took the first step in promoting recognition of Day's sanctity. New York's Cardinal John J. O'Connor, 17 years after her death, launched the actual process of canonization. Finally, in "Dorothy Day: A Personal Remembrance," the author sheds light on lesser known qualities and daily activities of Day and the importance to her of storytelling, music, beauty, books, the Eucharist, devotion to St. Therese of Lisieux, the darkness following the abortion of her first child, the sacrament of confession, her respect for Christians of other churches, her concern for repairing the schism between the Eastern and Western Christian churches and much more—offering, in effect, a compelling window into the mind, heart and soul of a woman whose life was indeed grace-filled.
— Catholic Book Club Selection, May 2011, America magazine
For many readers, All Is Grace will shed light on many corners of Dorothy's life about which they knew little or nothing. Her abortion and early relationships with men are honestly but not sensationally sketched here. The turbulence of her daughter's marriage and the emotional difficulties of her son-in-law David Hennessey as well as Dorothy's abrasive personality traits, her impatience with those she considered weak in faith, along with other aspects of her character and life — the deep passion of her love for Forster so amply documented in the letters — the full portrait of Dorothy Day here will make some critics think her canonization is inappropriate. Rather, as she says in her own writing, "We are all called to be saints. Sometimes we don't see them around us, sometimes their sanctity is obscured by the human, but they are there nonetheless."

In Dorothy's case, as this magnificent biography reveals, the human neither obscures nor destroys the holiness given by God and incarnated by her — in her weakness, in her courage, in her anxieties and desperation, but also in her discerning vision that we are to be the hands, heart, ears of God in the world. This beautiful biography should be the text assigned in courses where Dorothy's life and thinking are examined. It should also be the gateway to discovering her as well as a staple for retreats, retreat house libraries, adult education classes in parishes. I believe its amazing portrait of Dorothy will draw readers to her own writings.
— Michael Plekon, Cistercian Studies Quarterly
With All Is Grace, Jim Forest has given us the real Dorothy Day, sensual, confused, hungering, intelligent, radical, and wonderfully graced.
— Ed McCartan
Forest is an accomplished writer and his fluent prose is a pleasure to read…. The accumulation of details and insights in All Is Grace that accrue from Forest's carefully chosen and illustrative anecdotes weaves a seamless portrait of Day that mirrors her profound incarnational sensibility. Excerpts from her writings reveal the almost palpable delight she took in the physical, sensual world, qualities that infused her distinctive prose style with warmth and clarity. She loved opera (Wagner was her favorite composer) and Russian novelists, especially Dostoevski. She practiced a rigorous voluntary poverty but did not starve her senses. Once, Forest writes, "she discovered chopped onions, herbs and spices in the fruit salad." "A sacrilege," she wrote, "to treat food this way. Food should be treated with respect, since Our Lord left himself to us in the guise of food. His disciples knew him in the breaking of bread."

Day often quoted Dostoevski that "beauty will save the world." In both its text and in its luminous photographs, All is Grace offers a vivid testimony to Day's beauty, fidelity and, in the midst of suffering and hardship, a stunning witness of perseverance and hope.
— Rachelle Linnner, Catholic News Service
It is a pleasure to hold and read All Is Grace, Jim Forest's revised and expanded biography of Dorothy Day. She was a writer, Roman Catholic convert, co-founder of the Catholic Worker in 1933, and editor of a newspaper that served as the organ of this renowned movement for social justice.

Dorothy's compelling story, set in the 1920s through the 1970s, is told through an array of lovely photographs and with her own writings woven into Jim Forest's insightful reflections and careful documentation of people, places, and events. The book is a rich resource of American history formed from an insurgent perspective, an outcome of this woman's unswerving journey of faith and her practice of Christian anarchism. But on a personal level, which was her gift to so many of us, this story is inspirational and a call to action concerning the very fate of humanity and creation. In her words, "we are urging revolutionary change," we are made to think about how we live together and how we treat each other in today's world.

Dorothy's life and work show with clarity that she possessed an incredible sensitivity to and delight in the presence of God. Jim Forest brings this out beautifully. We see her celebrate the ordinary in life as wondrous; we sense her intense love of those around her, from early lovers, to friends, co-workers, and family.

Also shared are her profound experiences of grief over the human errors and tragedies of this world. All is Grace includes material from Dorothy's journals and letters, compiled and edited recently by Robert Ellsberg in The Duty of Delight and All The Way To Heaven. Her writings over many years describe in detail her family life, the challenges of living in community, and the joys and sorrows of meeting the needs of the poor through the works of mercy. Her correspondence and interactions with both people of significance and those of humble stations reveals a person of great kindness and humility herself.

Dorothy consistently set an example for overcoming our class system and the myriad forms of oppression and exclusion by seeing others as miracles or even as the face of Christ. This is indeed a radical message set in the center of a culture of discrimination, wars, and materialism. Yet Dorothy's mode of indoctrination is always intertwined in great stories of her extensive travels, time in prison, and adventures through retreats and speaking tours. The book captures many of these stories, conveying to the reader the joys, humor, and grim realities of Dorothy's visits across the United States and to the far reaches of Russia, India, and Africa.

For me, the most poignant selection is the chapter titled "Pregnancy, Faith, and Baptism." As a woman and mother, Dorothy brings to us her intrinsic human experience of a conversion precipitated through the act of giving birth. "No human creature could receive or contain so vast a flood of love and joy as I often felt after the birth of my child. With this came the need to worship, to adore." Such words, expressed in her exquisite writing style, are captivating.

The chronological arrangement of All Is Grace provides an easy, in-depth study of Dorothy's varied life and the history of the Catholic Worker movement. She had a great interest and ability in reaching out to people and connecting with them on a personal level. This comprehensive book, which should bring enthusiasm and hope to our youth, is a fine tribute to Dorothy's efforts to build community around the world. — Martha Hennessy

Martha Hennessy is a peace activist who lives at the Maryhouse Catholic Worker in New York City. She is a granddaughter of Dorothy Day. Her review was written for Fellowship magazine.
Love is the Measure, Jim Forest's first book on Dorothy Day was always my favorite biography of Dorothy. A couple of years ago, I was excited when I heard that Forest was doing a re-write of his original book. I was expecting some revisions and a few additional photos but I never expected a total revision and update warranting a new title, All is Grace.

It seems the perspective of additional years of reflection, the opening of the cause for her canonization, and the release of Dorothy's diaries and letters all impacted a fresh look at her life and Jim Forest so aptly gave us a new view of her remarkable life. It is written with the same personal attention to the details of each important phase of her live as was his first book. Each phase of her life is told like a separate story, written so personally as if he was with her at each step. It is the perfect way to tell the story of her life. Dorothy was fond of telling stories to others, and in my several meetings with her during the summer of 1976, she was more personally interested in my view points, opinions and life experiences than she was in talking about herself….

All is Grace is without question the definitive biography of Day. A bonus being all the photos (200+) that are distributed throughout the book.

— David Mueller (on the book's Amazon page)
* * *
comments by various reviewers to the earlier edition, Love is the Measure: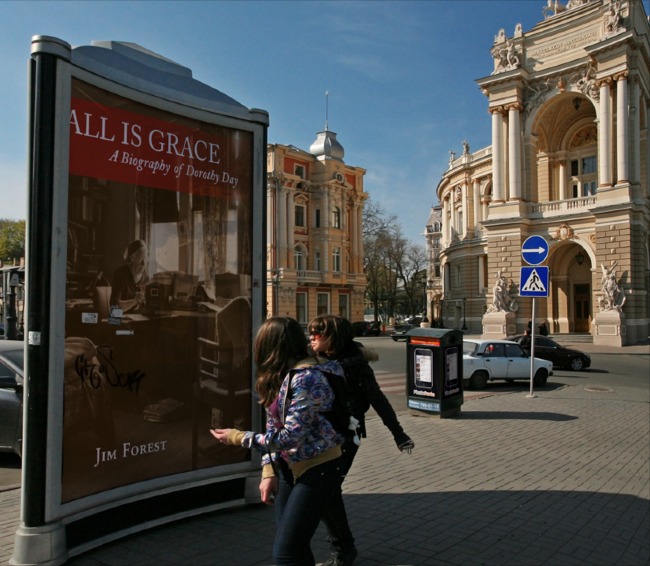 Forest finds plenty of events and nuances that other biographers have passed by… Forest provokes both laughter and tears. (The Christian Century)
Forest's biography of Dorothy Day contains much intimate detail which is not found elsewhere….Hers was an inspiring life that is conveyed to the reader in a clear, concise and organized fashion in this readable and entertaining book. (Catholic New Times)
It is, quite simply, a good story, well told… Jim Forest has done us all a service in telling this story so well… For anyone interested in an accurate and vivid account of Dorothy Day and the Catholic Worker, this is the book to start with. (Prism)
Only because of Jim Forest's gift with words have I come to know Dorothy Day. (Quaker Life)
An eminently readable account of the remarkable life of the "Grand Lady"… insightful accounts of her journey, along with graphic descriptions of the political and social climate of the sixties. (Living Prayer)
All is Grace can be purchased via any local bookshop and is also available from Amazon and similar web shops.