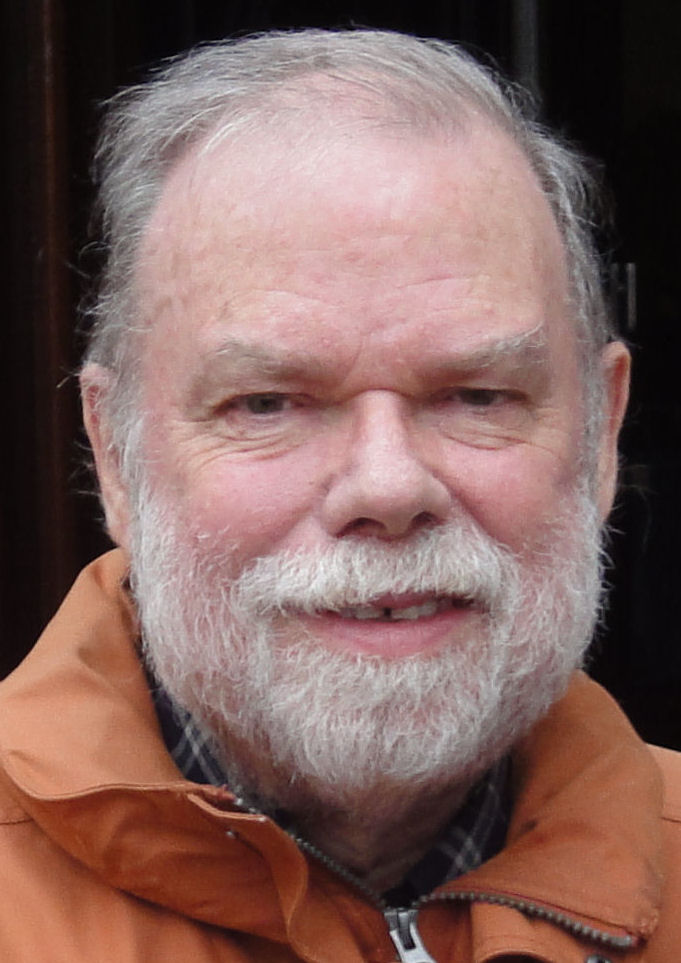 Jim Forest's activity as a writer began in New Jersey at age five, in 1946, when he produced a handwritten family newspaper using an alphabet of his own design. It was an excellent publication whose only shortcoming was that only he could read it.
A few years after achieving literacy, he was often found hanging around the office of the town's weekly newspaper, watching linotypers set type from molten zinc, a form of typesetting now associated with the Age of Gutenberg. Before long he was hawking The Red Bank Register on Broad Street, delivering newspapers door to door, and starting his own mimeographed publication, now using an alphabet accessible to others.
His engagement in Christianity began about the same time that he was selling newspapers. At age ten he was baptized in an Episcopal parish in Shrewsbury, New Jersey, though it wasn't until he was in the U.S. Navy that he began to see his vocation in religious terms.
In 1960, while working at the U.S. Weather Service headquarters near Washington as part of a Navy meteorological unit, he joined the Catholic Church.
In 1961, after obtaining an early discharge from the Navy on grounds of conscientious objection, he joined the Catholic Worker community, led by Dorothy Day, in New York City; during that period he became managing editor of The Catholic Worker.
Later he was a reporter a New York City daily newspaper, The Staten Island Advance, and worked for Religious News Service, a press bureau.
Jim is the author of many books, including:
Writing Straight With Crooked Lines: A Memoir
The Root of War is Fear: Thomas Merton's Advice to Peacemakers,
Loving Our Enemies: Reflections on the Hardest Commandment
Living With Wisdom: a biography of Thomas Merton
All Is Grace: a biography of Dorothy Day
At Play in the Lions' Den: a biography and memoir of Daniel Berrigan
The Road to Emmaus: Pilgrimage as a Way of Life
Praying with Icons
The Ladder of the Beatitudes
The Wormwood File: E-Mail from Hell
Confession: Doorway to Forgiveness.
Earlier books include Religion in the New Russia and Pilgrim to the Russian Church.
Jim has written several children's books, most recently Saint Nicholas and the Nine Golden Coins, Saint George and the Dragon and Silent as a Stone: Mother Maria of Paris and the Trash Can Rescue (a story set in Nazi-occupied France).
With Fr Hildo Bos, he co-edited For the Peace from Above: an Orthodox Resource Book on War, Peace and Nationalism. With Tom Cornell and Robert Ellsberg, he co-edited A Penny a Copy: Readings from The Catholic Worker.
Translations of his books have been published in Greek, Dutch, Italian, Spanish, Portuguese, Russian, Swedish, Danish, Polish, Korean, Japanese, and Romanian.
Another dimension of Jim's life has been peace work.
In 1965, he founded the Catholic Peace Fellowship, a group whose work in making known the option of conscientious objection was a factor in the remarkable fact that no religious community produced so many conscientious objectors during the Vietnam War as the Catholic Church.
In connection with work on two books about Russian religious life, in the 1980s Jim traveled widely throughout the former Soviet Union and was a witness to the final days of the USSR. His experiences in Russia were a factor in his becoming, in 1988, an Orthodox Christian. He is an ordained Reader and belongs to St. Nicholas of Myra Russian Orthodox Church in Amsterdam.
In the late sixties, Jim was responsible for Vietnam program activities of the Fellowship of Reconciliation. One aspect of his work was to travel with and assist Thich Nhat Hanh, the Vietnamese Buddhist monk and poet.
In 1969-70, Jim was imprisoned for thirteen months as a consequence of his involvement in the "Milwaukee Fourteen," a group of Catholic priests and lay people who burned draft records.
After leaving prison, he was a member of the Emmaus Community in East Harlem, New York.
In 1973, he was appointed editor of Fellowship, the magazine of the Fellowship of Reconciliation.
In 1977, he moved to Holland to head the staff of the International Fellowship of Reconciliation. He was IFOR's General Secretary for twelve years.
Jim is international secretary of the Orthodox Peace Fellowship and, for 21 years, edited its quarterly journal, In Communion. He is now Associate Editor. The journal is archived at http://incommunion.org .
An influential factor in Jim's life was his friendship with Thomas Merton, who dedicated Faith and Violence to Jim. Merton's letters to Jim have been published in The Hidden Ground of Love. Many are inlcuded, with commentary, in The Root of War is Fear: Thomas Merton's Advice to Peacemakers.
Jim has led retreats in the USA and England and has lectured at hundreds of parishes, theological schools, colleges and universities.
In 1989, he received the Peacemaker Award from Notre Dame University's Institute for International Peace Studies. In 2007, he was the recipient of the St. Marcellus Award presented annually by the Catholic Peace Fellowship. In 2011, at the University of Wroclaw in Poland, he was presented with the Prince Constantine Ostrogsky Award for "promotion of peace and justice and efforts to safeguard life and creation through life-protecting methods." In 2014 he was honored with the Esse Non Videri ("to be and not to seem") Award by St. Joseph's College on Long Island, NY. In 2015 he was given the Peace and Justice Award of the Thomas Merton Center in Pittsburgh, Pennsylvania. In 2017 he received the "Louie" award from the International Thomas Merton Society.
An auto-didact, Jim dropped out of high school when he was seventeen. The only formal education he has had since then were meteorology studies while in the Navy (in 1959 he graduated first in his class from the Navy Weather School) and occasional classes (English literature and art history) at two colleges in New York City, Hunter and the New School for Social Research.
An occasional teacher, in the early seventies, Jim taught at New York Theological Seminary and the College of New Rochelle. In 1985, during a sabbatical, he taught at the Ecumenical Institute, Tantur, near Jerusalem, and in 1999 was part of the summer faculty of the Department of Religion at the University of Dayton.
After several years of being treated for kidney illness, in October 2007 Jim received a transplanted kidney donated by his wife, Nancy.
He is the father of six children and grandfather of ten.
Since 1977 his home has been in Alkmaar, Holland, a city northwest of Amsterdam.
Want to know more?
Here's an autobiographical essay, "Getting From There to Here."
page updated in November 2017