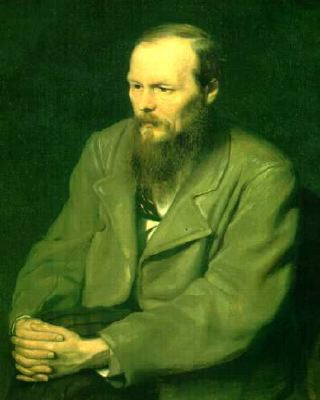 by Jim Forest
No writer has explored more carefully than Dostoevsky the way a sin is justified in the doer's mind before it is committed, the innate human urge to confess afterward, the struggle not to confess, and the healing made possible by confession — all lessons Dostoevsky learned in the crucible of life. A writer whose later work always had a religious core, he had found his way to faith the hard way.
In 1849, the 28-year-old Dostoevsky had been sentenced to death for his radical associations and activities in St. Petersburg. He was standing at the place of execution, in view of the firing squad, when his death sentence was commuted by the tsar. Days later, the hair shaven off one side of his head and wearing a convict's black-and-white striped uniform, he was sent in chains to Siberia. On his way the wife of another convict managed to give him a copy of the New Testament along with a ten ruble note hidden in the cover. He kept the book with him for the rest of his life.
He spent the first four years "packed like a sardine" inside a vermin-infested prison barrack, a rotting building, stuffy in summer, freezing in winter, a world without any privacy or safety. He wasn't permitted to write a single letter. Yet there was a certain blessing in his sojourn in the "lower depths," a term often used by radical Russian intellectuals who contemplated the ordinary people — the narod — from a safe distance. Tolstoy might occasionally labor with his peasants and wear similar clothing, but at night he slept on silk sheets. Dostoevsky lived and slept among some of Russia's poorest day and night for years. Among the "unfortunate ones," as Russians often called those in prison, he rethought the foundations of his life.
A religious awakening occurred. He began to consider that the Gospel might be true and that the Church — the guardian of the Gospel — might be something more than a social institution whose main task was blessing the tsar and the activities of the state.
Finally allowed to engage in correspondence in 1854, he related to a friend how he had come to thirst for faith "as withered grass thirsts for water":
I'm a child of the age, a child of doubt and unbelief, and even, I'm certain, till the day they close the lid of my coffin. What terrible torment this thirst to believe has cost me and is still costing me, the stronger it becomes in my soul, the stronger are the arguments against it. And despite all this God sends me moments of great tranquility, moments during which I love and find I am loved by others. It was during such a moment that I formed within myself a symbol of faith [In Orthodoxy Christianity, the Creed is referred to as "the symbol of faith"; the Greek word "symbol" means "that which brings together."] in which all is clear and sacred for me. The symbol [creed] is very simple, and here is what it is: to believe that there is nothing more beautiful, more profound, more sympathetic, more reasonable, more courageous, and more perfect than Christ; and there not only isn't, but I tell myself with a jealous love, there cannot be. More than that — if someone succeeded in proving to me that Christ was outside the truth, and if, indeed, the truth was outside Christ, I would sooner remain with Christ than with the truth. [Selected Letters of Fyodor Dostoyevsky, translated by Andrew MacAndrew, edited by Joseph Frank and David Goldstein, Rutgers University Press, 1987; letter to N.D. Fonvizina, p. 68. One finds a similar passage in a notebook entry written in 1881, the year he died: "I believe in Christ not like a child. My faith came through the crucible of doubts."]
It is in his Siberian years that the novels of his later life have their roots.
In Crime and Punishment, Dostoevsky's central figure is Raskolnikov, a sullen student living in a shabby rented room in St. Petersburg. He regards himself as modern, belonging to a new age in which God and compassion have been banished by science. Penniless, he is obsessed with loathing for a moneylender to whom he is in debt and slowly becomes a murderer in his imagination. It occurs to him that murder is not always regarded as a crime — those who commit crime on a huge scale, people like Napoleon, are regarded as national heroes, benefactors of humanity and giants of history despite the desolation and carnage they instigated. Such supermen, refusing to be shackled by mere morality, "make a new law by transgressing an old one."
Raskolnikov decides that by killing the moneylender, a selfish old woman whom no one will mourn, he would be saving many families "from destitution, from decay, from ruin, from depravity" while at the same time relieving his own poverty. He imagines that afterwards, liberated from destitution with the money he has obtained from the chest in her bedroom, he will be free to "devote himself to the service of humanity and the common good." In such a case, he reasons, murder, far from being a sin, would be just and good. "One death for hundreds of lives — it's simple arithmetic!"
Yet when he commits his carefully-planned and philosophically-justified murder, things do not go entirely as intended. He kills the money-lender but discovers a simple-minded young woman, Lizaveta, has witnessed his deed and so murders her as well so that she cannot testify against him. The hatchet Raskolnikov had hidden in his jacket is now reddened not only with a miser's blood but also that of a saintly innocent who never harmed or hated anyone. [Dostoevsky identifies Lizaveta as a yurodivi — a Holy Fool or Fool-of-Christ, a kind of saint much loved by many Orthodox Christians.]
He has been clever in committing his crime. No trail of clues connects him to the two dead women. Even so an intuitive policeman, Porfiry Petrovich, finds more and more reasons to regard Raskolnikov as the guilty one. Petrovich sees Raskolnikov's nearly dead soul — his heart "chafed by theories" — and understands that this young man's only hope is confession and repentance. He plays a part in rescuing Raskolnikov from the hell into which he has locked himself. Porfiry Petrovich is able to say to Raskolnikov that "God is waiting for you" and to tell him that the suffering he will have to endure as a prisoner can be, after all, a good thing. He points out to Raskolnikov that his crime, terrible as it was, might have been worse: "If you'd come up with a different theory, you might have done something a hundred million times more hideous!" He delays arresting Raskolnikov in the hope that he will "become like a sun" and confess.
But Raskolnikov's principal rescuer is Sonya, a young woman of deep Christian faith who has become a prostitute for the sake of her impoverished family's survival. When at last Raskolnikov admits to her his terrible secret, it is Sonya who tells him that his only hope is confession — confession to God, to the police, to a priest, to everyone.
"What to do?" she exclaimed, suddenly jumping up from her place, and her eyes, still full of tears, suddenly flashed. "Stand up!" (She seized him by the shoulder; he rose, looking at her almost in amazement.) "Go now, this minute, stand in the crossroads, bow down, and first kiss the earth you've defiled, then bow to the whole world, on all four sides, and say aloud to everyone: 'I have killed!' Then God will send you life again. Will you go? Will you?"
Sonya has a copy of the New Testament from which she used to read aloud to Lizaveta. Raskolnikov asks her to read to him from the same book. She turns to the eleventh chapter of John's Gospel but at first has difficulty making any sound, she is so overcome with emotion. Finally she starts reading: "Now a certain man was sick, named Lazarus, of Bethany …" It is the story of Jesus' friend who died and four days later, within his tomb, was called back to life. Jesus asks Martha if she believes in the resurrection of the dead. She says she believes her brother will be raised back to life at the end of time. Jesus responds, "I am the resurrection and the life." Sonya by now is reading with strength her voice, as if she herself were Martha: "Yes, Lord, I believe that you are the Christ, the Son of God …"
Sonya assures Raskolnikov that his only hope is to confess, accept suffering and thus redeem himself. Otherwise, though outwardly free and part of normal society, his unspeakable secret will cut himself off from everyone around him, even his mother and sister.
Raskolnikov realizes that in confessing the truth to Sonya, a door has opened at least a crack. They sit
side by side, sad and crushed, as if they had been washed up alone on a deserted shore after a storm. He looked at Sonya and felt how much of her love was on him, and, strangely, suddenly felt it heavy and painful to be loved like that. Yes, it was a strange and terrible feeling!
She offers Raskolnikov a small cross that had belonged to the murdered Lizaveta and promises him to share in his suffering and to help him bear his cross. Lizaveta's cross is a gift he cannot yet accept, nor is he yet capable of surrendering to Sonya's counsel. In the days that follow he considers escaping to America. At other moments he contemplates suicide. But finally he goes to the police station and confesses the double murder.
The punishment for murder in late-nineteenth century Russia was not execution but imprisonment and hard labor in Siberia. Raskolnikov gets a relatively short sentence — eight years, the length of Dostoevsky's own period of imprisonment and exile. The judge explains it would have been a longer sentence, but he has taken note of the fact that Raskolnikov made no effort during his trial to excuse himself on the basis of illness or temporary insanity nor ever used any of the stolen money for his own benefit. There was also the factor of several persons testifying on his behalf about ways he had helped them.
Sonya eventually follows him to Siberia, living not far from the prison and doing all she can to help not only Raskolnikov but also other "unfortunate ones."
It is while in prison, a year after his conviction, that the full horror of his two murders dawns on him. Real repentance begins and with it floods of tears.
In the last paragraph of Crime and Punishment, Raskolnikov is holding the New Testament in his hands, a book he had been keeping under his pillow but not yet opened.
He took the book out mechanically. It belonged to her, it was the same one from which she had read to him about the raising of Lazarus. At the beginning of his hard labor he had thought she would hound him with religion, would be forever talking about the Gospels and forcing books on him. But to his greatest amazement, she never once spoke of it, never once even offered him the Gospels. He had asked her for it himself … and she had silently brought him the book. He had not even opened it yet. Nor did he open it now, but a thought flashed in him: "Can her convictions not be my convictions now?"
While compressing a large and complex novel into a few pages oversimplifies the spiritual struggle at the heart of the book, even told in brief one can understand how Sonya's wisdom and love are enough to bring about Raskolnikov's conversion. More than any other person, she helps him understand that there is no alternative to confession and repentance. With these the doors of the kingdom of God can open even for a man in prison who has committed one of the worst of sins. For the first time since childhood, Raskolnikov experiences inner freedom even though he has seven more years to serve.
The Brothers Karamazov, Dostoevsky's last novel, provides the author with another opportunity to explore the themes of sin and repentance, doing so on an even larger canvas than Crime and Punishment. Again the pivotal event is murder — an act of patricide by one of the sons of Fyodor Karamazov, a jeering, cynical man of unbridled lust and greed.
What we are starkly confronted with in the Karamazov brothers are very different human types.
There is Alyosha, the youngest, who has miraculously emerged from the moral squalor of his father's home with a purity of heart and compelling directness most people relinquish in adolescence. This is due in great measure to vivid memories of his mother, who before her early death held him in her arms before her icon of the Mother of God and the Christ Child, praying with tears for Alyosha's protection.
In the period described in the novel, Alyosha has become a novice at the local monastery, assigned to care for Father Zosima, a saintly monk who hears the confessions of countless pilgrims. The Christ-like Alyosha is able to visit his father and listen to him ridicule Christianity in general and monastic life in particular without rising to the bait. He is one of the rarities in the human race who has no need to defend himself or his faith. [The figure of Fr. Zosima was inspired in part by Father Amvrosi, a monk at the Optina Monastery, confessor to countless people. Dostoevsky had gone to see him in 1878 when grieving the death of his two-and-a-half year old son, Aleksei. Amvrosi was canonized by the Russian Orthodox Church in 1988. Another model for Zosima was a bishop of the eighteenth century: St. Tikhon of Zadonsk.]
Then there is Ivan Karamazov with his diamond-hard intellect, a scholar with acute but abstracted analytical powers, who seems to be seeing the earth and its people not from where he stands but as if he were watching by telescope from the moon. He is an expert on religion, especially Orthodox Christianity, and his widely-read essays are even admired by the monks at the local monastery. They assume he is an believer, yet in fact Ivan is an atheist, rejecting God so long as there is a single child suffering from incurable illness. He is the sort of atheist who is so obsessed with the God to whom he objects and revolts against that he is as God-haunted as the devout Alyosha. For Ivan, God is a problem of the mind, for Alyosha a presence in the heart. Alienated Ivan is among those laying the foundations for the terrifying revolution to come only a few decades later — one of those idealists who hope, as Father Zosima says, "to make a just order for themselves but, having rejected Christ, will end by drenching the earth with blood." [p 318]
In the eldest brother, Dimitri, we meet a poetic, impulsive young man who has inherited his father's sensuality but not his greed or cunning. He is passionately in love with Grushenka, a capricious and manipulative local beauty — a woman who has also caught the eye of the elder Karamazov, so that we find father and son competing with each other for her attention, with father having the advantage of wealth, the son the advantage of youth. Dimitri is an image of the tragic sinner Christ loves and readily forgives in response to the tiniest gesture of repentance. He is someone who might bathe Christ's feet with his tears. "Lord, I am loathsome," Dimitri cries out, "but I love you! If you send me to hell, even there will I love you." [p 412]
Finally there is a fourth son, Smerdyakov, son of a simple-minded girl who hardly knew her name, fathered by Fyodor Karamazov when he happened upon Lizaveta one night and raped her. He never confessed his deed and thus never acknowledged Smerdyakov as his son, but following Lizaveta's death in childbirth, allowed his servant Grigory and his wife to care for the boy, who grew up to become another of his father's servants. The bitter and withdrawn Smerdyakov has known even less love than the legitimate sons of Karamazov.
By the time the elder Karamazov is murdered, we know the brothers well enough to understand that each of them except Alyosha had a homicidal motive, and understand why it is that even Alyosha feels implicated in his father's murder, for he has learned from Fr. Zosima that "each is guilty of everything before everyone, and I most of all."
Finally Dimitri is accused and arrested on the basis of circumstantial evidence. "I am not guilty of my father's blood," declares Dimitri when charged, yet he concedes his arrest is just spiritually. "I accept punishment not because I killed him, but because I wanted to kill him, and might well have killed him…" [p. 509] Only later does it become clear who really committed the act and how cunningly it was planned.
The reader also comes to understand that Ivan, though he did not commit the murder, is the crime's intellectual author. It was Ivan who convinced the murderer that, as there is no God, there is no sin. Now he discovers that ideology can be as deadly as an axe.
In one of the pivotal moments in the book, we find Alyosha talking with Ivan, now on the verge of madness, about the huge guilt he senses has taken hold of Ivan. Alyosha suddenly turns to Ivan and says: "It was not you who killed father … You've accused yourself and confessed to yourself that you and you alone are the murderer. But it was not you who killed him, you are mistaken, the murderer was not you, do you hear, it was not you! God has sent me to tell you that."
Alyosha does not mean that Ivan is blameless of their father's death. In assuring Ivan that it was "not you," Alyosha wants his brother to understand that what he has done was the result of a demonic spirit at work within him rather an action of his essential self. Should Ivan confuse the evil he has done with his deepest self, he will have damned himself and may never find his way out of the despair that results. Alyosha's message is a desperate effort to save Ivan's sanity and soul.
Demonic possession was a theme that Dostoevsky explored in Demons, sometimes translated as The Possessed, yet in this novel we meet no demons as such — only people possessed by radical ideas and ideologies. Demons become visible, writes Dostoevsky translator Richard Pevear, "only in distortions of the human image, the human countenance, and their force is measurable only by the degree of the distortion." [from the foreword to the Pevear-Volokhonsky translation of Demons: Knopf, 1994]
The demons in Dostoevsky's novels operate via all the isms that flooded across Russia in the nineteenth century: idealism, rationalism, empiricism, materialism, utilitarianism, positivism, anarchism, socialism, and, common to them all, nihilism and atheism. Demons — invisible spirits serving Satan, the father of lies — discovered many nineteenth century intellectuals were more vulnerable to idealistic theories and slogans than to wealth or other traditional temptations that had worked so well with their parents. Evil ideologies invade a person, pervert him, gradually driving him to crime, insanity or both."It was not you who ate the idea," says one of one of the novel's principal figures, Pyotr Verkhovensky, "but the idea ate you."
"If we call Satan the father of lies, I think we begin to understand that evil is rooted in untruth, denial of the Truth, in deception, and that here is where we find the skin next to the skin of our sin," writes my friend Alice Carter:
Denial of Christ is denial of Truth, to deny His Resurrection propels us into sin — sin which is the only response to seeing death as the end. If death is the end, attention to my biological needs is my first priority: my needs over everyone else. Any injustice, any crime can be tolerated and is really unavoidable, in this perception. My survival is first. The end justifies the means. And in a world without God, as Dostoevsky tells us, anything is possible, everything is permitted. What can prevent our murderous actions from overwhelming and destroying the earth?
Dostoevsky was no Manichean envisioning God and Satan as equally-matched warring twins. His experiences while a prisoner had shown him that evil was not on an equal footing with good, that demons are capable only of destruction, not creation. Made in God's image as we are, evil can never be the essence of any person, even the most damaged, the most sinful, the most possessed. However weakened by habitual sin, each person retains to his last breath the freedom to turn from evil, to confess and repent. "Never confuse the person, formed in the image of God, with the evil that is in him, because evil is but a chance misfortune, illness, a devilish reverie," said Dostoevsky's contemporary, St. John of Kronstadt. "But the very essence of the person is the image of God, and this remains in him despite every disfigurement."
Coping with disaster in his own life, Dostoevsky had come to realize that God is both our private salvation and the only source of social cohesion. We live a different life if we know we are made by God, bear the Divine image, and that each of us — and all of us — is accountable to God. To deny God is a form of suicide and at the same time the cause of social disintegration and mass murder.
In place of demonic ideas and ideologies, there is the reality of God's creation and of the person. There is the saving mystery of beauty. Thus we find Dostoevsky's heroes in sacramental moments kissing the earth and watering it with their tears. This is what Sonya proposed Raskolnikov do at the four crossroads and is what happened to Alyosha after the death of his saintly mentor, Fr. Zosima:
He did not stop on the porch, either, but went quickly down the steps. Filled with rapture, his soul yearned for freedom, space, vastness. Over him the heavenly dome, full of quiet, shining stars, hung boundlessly. From the zenith to the horizon the still-dim Milky Way stretched its double strand. Night, fresh and quiet, almost unstirring, enveloped the earth. The white towers and golden domes of the church gleamed in the sapphire sky. The luxuriant autumn flowers in the flowerbeds near the house had fallen asleep until morning. The silence of the earth seemed to merge with the silence of the heavens, the mystery of the earth touched the mystery of the stars … Alyosha stood gazing and suddenly, as if he had been cut down, threw himself to the earth.

He did not know why he was embracing it, he did not try to understand why he longed irresistibly to kiss it, to kiss all of it, but he was kissing it, weeping, sobbing, and watering it with his tears, and he vowed ecstatically to love it, to love it unto ages of ages. "Water the earth with the tears of your joy, and love those tears…," rang his soul. What was he weeping for? Oh, in his rapture he wept even for the stars that shone on him from the abyss, and "he was not ashamed of this ecstasy." It was as if threads from all those innumerable worlds of God all came together in his soul, and it was trembling all over, "touching other worlds." He wanted to forgive everyone and for everything, and to ask forgiveness, oh, not for himself! but for all and for everything, "as others are asking for me," rang in his soul. [p. 362]
* * *
a chapter from Confession: Doorway to Forgiveness by Jim Forest (Orbis Books)
* * *